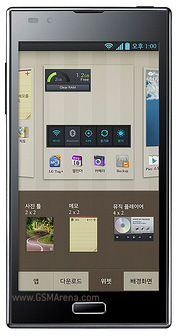 LG announced the Optimus LTE2 and bragged about the 2GB of RAM but said little else about the device. Today, they decided to fill in the blanks. There is no official word on a worldwide release of the LTE2, but it probably will venture out of South Korea - the specs sheet reads like a true Samsung Galaxy S III and HTC One X challenger.
The phone has a 4.7" TrueHD IPS screen with 720p resolution. The device measures 134.7 x 69.5 x 8.9 mm and weighs 145g. It supports wireless charging with an optional charging pad ($85) and battery cover ($33).
The LG Optimus LTE2 is powered by a Qualcomm Snapdragon S4 MSM8960 chipset with a dual-core Krait processor clocked at 1.5GHz, 2GB of RAM (a world's first as the press release is keen to point out) and Adreno 225 graphics. It will run Android 4.0 Ice Cream Sandwich out of the box and a customized interface.
The LTE2 will come with an 8MP main camera (with LED flash) and a 1.3MP front-facing camera.
The phone's connectivity credentials (besides the LTE) include NFC, Bluetooth 4.0, DLNA, USB 2.0 with MHL (which features 5.1 channel audio output). LG did a lot of work to improve power efficiency (up to 40%) and the Optimus LTE2 will reportedly last for up to 10 hours of talk time and up to 255 hours of standby. The 2150mAh battery helps here too.
The LG Optimus LTE2 will ship this week in South Korea with an price tag of about 935,000 won (that's about $800).