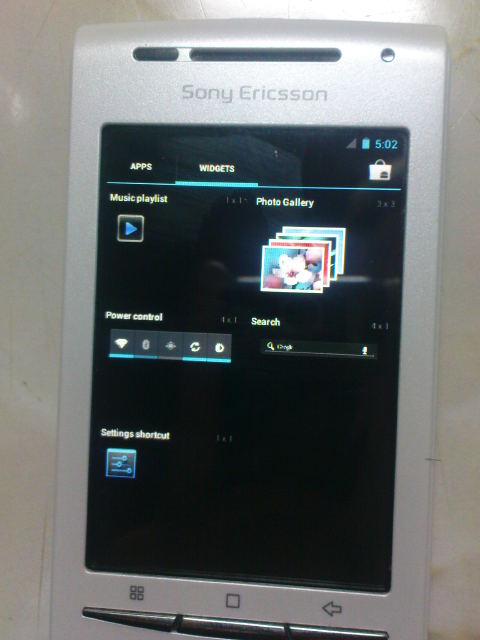 ---
Intro
Some peoples want thread with the concept of GingerDX by DoixanH. He we are
This is a rom for all people want to see Ice Cream Sandiwch on the Xperia X8.
The main goal is to have CM9 on the Xperia X8.
Screenshot
If you have screen of the v009 I will take it. Thanks !
Review
Thanks go to jahlovePL for this video ! Thanks man !
Known bugs
A lot of things !
Requirements
-Rooted phones
-ClockworkMod Recovery or xRecovery for stock kernel
-
Recommandely
: Latest kernel and latest baseband xxx015
Downloads
: Note:
Make a full-wip before install this ROM !
v009
Old downloads
v007 (No link for this version, very buggy with a lor of FC]
Install instruction
1) Very recommandely to flash the nAa or Alf kernel !
2) Download
3) Copy to sdcard
4) Reboot to CWM or xRecovery (For Stock Kernel)
5) Make a Backup
6) Make a FULL-WIPE !
7) Install custom zip
8) Reboot
9) ENJOY !
What's work !
- Touchscreen (Cypress users- stock kernel only with V008)
- Charging
- Hard buttons (Thnx to tony-noob )
- Vibrate (With the nAa/alfs Kernel)
- Sound (We can ear in the earspeaker)
- SD Card Readable (V005)
- LED (V005)
- GSM (V005) (Can receive calls and SMS but cant make calls )
- Brightness (V005)
- SMS
What's don't work:
- DATA (3G/2G)
- Wifi
- Bluetooth
- Camera
- Compatibility with Cypress on the nAa/Alf/LinuxDX Kernel
What's work but buggy:
- Sound
- Mount SD Card
For the moment we work for the :
- Sound, because when the sound will be fixed, call will be work !
CHANGELOG
Alpha 9 (18-12-2011)
*Small fix*
- Added fix for recovery mode on stock kernel
Alpha 8 (7-12-2011)
-Screen density changed from 160 to 150 to improve the screen
-Add chargemon and ramdisk.tar for boot with stock kernel (yes, now u can flash this on stock kernel !!!) thanks to ThePCGuy
-Cypress drivers fixed but can only be used through stock kernel (for now) (thnx to DeFcOn and alfsamsung)
-Added temporary USB Mount Fix by Stelious 97
Alpha 7 II (4-12-2011
*Performance fixes* (Reverted back to V003's Gralloc Driver thanks to doixanh's guidance )
-Speed has improved (djnilse said it's like GingerBread !)
-GPU works (basically same as the 1st post)
- GSM now connects automatically, unlike in v005, but still has the same bugs with sms and calls
-Screen resolution is fixed
Alpha 7 (3-12-2011)
-Wasn't uploaded because users complained that they could not boot and even if the could boot, their launchers kept FC
Alpha 6 (4-12-2011)
* Minor fixes*
-Changes to LCD Density (Better for viewing)
-Some improvements (optimizations to performance)
Alpha 5 (3-12-2011)
*A LOT OF FIXES*
-Sd card is working
-LED works
-Brightness can be adjusted
-GSM (Can recieve calls and SMS but cant send sms and make calls )
Alpha 4 (3-12-2011)
*A few improvements*
-About phone stats have been corrected (except for baseband)
-Keyboard is finally fixed !!!
-Scrolling speed improved and smoothened !
-If it's slow, try disabling animations (Settings/dev options/window & transition animation scale/unselect both) that should solve the problem
Alpha 3 (28-11-2011) (troufiniou will be busy till next weekend, thats why this update came early.Idk maybe he may upload an update if he's free)
- The hardware buttons work great now, especially (un)locking the device (Thnx to tony-noob )
- Vibrate works except if you're running on LDX kernel.
- Credits go to TimeWasterNL for testing and providing me these findings !
Alpha 2 (28-11-2011)
- Smoother than V001 (tested with alfs kernel v05 (non-fcp)
- Not much lag like in stelios97's port
- Apps open faster than stelious97's port
Alpha 1 (27-11-2011)
- Initial release