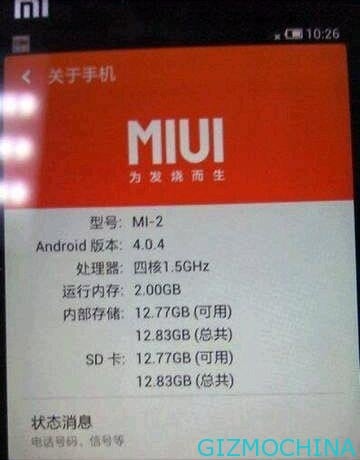 After we've covered the news about Xiaomi MI2, and now we heard a good news for you, the Xiamo MI2 smartphone will launch on August 16th on Chinese market, the launching time is 14:00 PM, so be prepare.

Not only that, we have another good news regarding MI2 specification, those phone will powered with 1.5 Ghz Quad-core APQ8064 processor as same as Krait Cortex-A15 architecture which becowe a strongest chipset on the market today. And this phone will equipped with 2GB memory
The user from the microblogging site revealed the specification screen of Xiaomi MI2 which powered by 1.5GHz processor and running Android 4.0.4 systems, has 2GB of RAM this memory is bigger than previous Xiaomi series M1.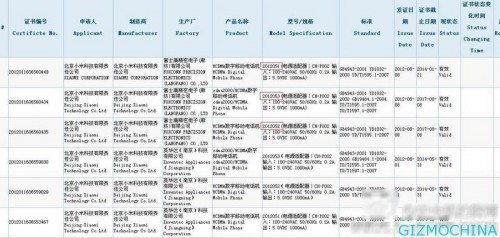 Not only that, We have found the information about another new Xiaomi smartphone which has codename "2012051″, "2012052″ and "2012053″, while the "2012051″ and "2012052″ is designed for China Unicom WCDMA network, and "2012053″ is supported for China Telecom and China Unicom CDMA2000 / WCDMA network.
The Codename "2012052″, is the new identity for the upgrade version from M1, while the other two codename is newer series from Xiaomi smartphone, so we can't find the specific identity for those smartphone until Xiami relese those phone on the market.
Like we've ever covered before, the new Xiaomi MI2 phone has "iPhone 3GS" form factor, which has same design for power button, volume button and handphone jack, and the camera position is on the right side, with LED flash on the back body.
Unfortunately, we can't specify the screen size of Xiaomi MI2 smartphone, some rumor says, those phone will equipped with 4,7-inch touch-screen with 720p while the other rumor says the screen is 4,6 inch and 4,3 inch with 326 pixel per inch.
The last but not leas, like we've write on the beginning of this news, The Xiaomi MI2 will powered with APQ8064 Qualcomm 1.5GHz quad-core processor, and the back camera is 8 megapixel.