We are always cautious when talking about product leaks from pre-order pages, but since the retailer in question is Amazon, this one is as serious as it gets. Amazon Germany has listed the Samsung Galaxy S III for pre-order, thus possibly revealing some of the upcoming flagship's specs, to go with its €599 price tag.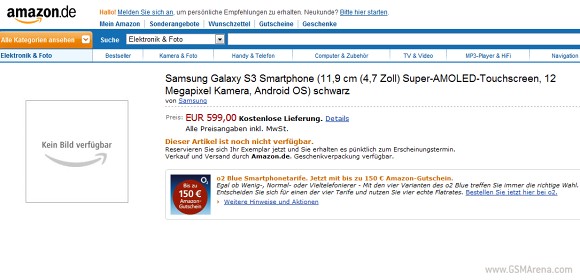 The Samsung Galaxy S III is listed as sporting a 4.7" Super AMOLED screen and a 12MP camera. The phone's memory is listed as 16GB, which is further expandable up to 32GB, while the OS is, of course Android 4.0 ICS.
In case you can't wait to get your hands on the Samsung Galaxy S III, hit the source link to pre-order it. Its price by the way, does include VAT.