Perhaps a taste of what we can expect at MWC next month, the X3 looks to be one of the early challengers to HTC in the quad-core market.
The robust processor comes courtesy of the Tegra 3 chipset by Nvidia, and while the 720p screen measures in at a quite large 4.7 inches, it supposedly manages to retain a slim 9mm waistline. LG plans to stick in a 2000mAh battery to power it all.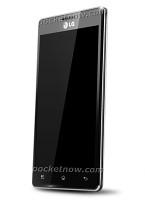 Other highlights include 16GB of internal storage, 8MP camera (plus 1.3MP front-facing), capacitive buttons, Bluetooth 4.0, Wi-Fi, and an NFC transceiver. Also, the X3 should come with the latest Android, Ice Cream Sandwich, right out of the box.
Expect the X3 (if it is still called that upon release), by the end of Q2 this year.